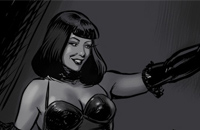 AFIRA collaborates with legendary underground femdom artist Sardax to produce a series of illustrations based on her 'Dark Daze' collection.
Sardax says "I've known Afira a year or so – as kindred spirits sharing similar ideas. She showed me her sketchbooks a few months back and I was astonished to see how closely her thought processes resembled my own. So it was a great privilege to collaborate and dress up my "goddesses " with her latest stunning collection. They suit one another admirably and the illustrations seemed to flow out under the inspiration.
There's no intended story though there could be something about a princess being drawn to a magic mountain, perhaps. In all the drawings , however, the female is the dominant controlling element and men or half-men surround her and do her bidding. Femdom, fetish – whatever you want to call it – I prefer to call it mystery and glamour and to my mind that's what Afira's collection is about too."
The finished art can be viewed in the 'Dark Daze Redux' gallery.
This collaboration was also featured in Skin 2 magazine.